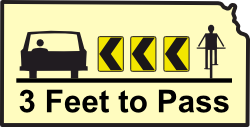 HB2192 (3-Foot Passing and "Dead Red") has emerged from a Senate/House conference committee, and now moves to the full Kansas House of Representatives for a vote.
News from Bill Lucero, Lobbyist with the Kaw Valley Bicycle Club:
A Conference Committee composed of the Chairmen, Vice Chairmen and Ranking minority members of both chambers hammered out a compromise proposal this afternoon which includes the proposed 3 foot clearance a motorist would be required to provide when passing a cyclist. Two meetings were held today, attended by KVBC's Bill Lucero and Alan Apel, in order for Legislative staff to determine the impact that would result if municipalities were barred from charging additional Court costs when motorists were stopped for not wearing a seatbelt.

Eventually a provision was added back into the original House Bill 2192 prohibiting municipalities from charging such Court costs. A second provision allowing vehicles to drive 75 mph on certain limited access highways was also added. Thus, as House Transportation Chairman Gary Hayzlett (R- Lakin) stated, we now have a Transportation Omnibus Bill with the new 2 provisions contained with the "Dead Red" and 3 foot distance proposals. Hayzlett noted that whenever legislation is compounded, "you gain a few votes and you lose a few", thus the bill could be a crap shoot in either chamber.

The Bill now goes back to the House for concurrence or rejection of the Committee report. Senate Transportation Chairman Dwayne Umbarger (R- Thayer)- who championed the 3 foot provision- indicated that he believed the current revised Bill should advance but did not speculate what might happen if other modifications were made to the Bill. At this time all bicyclists are encouraged to contact their respective Senators and Representatives, urging them to support the 3 foot provision in House Bill 2192.
You can read more about Kansas House Bill 2192 here.
The original 3-foot passing bill (HB2174) was narrowly defeated by a 55-59 vote in late February, but was subsequently amended (along with the Dead Red bill) to a related proposal, which was then overwhelmingly approved by the Kansas Senate 36-2.
After Senate approval, the House "Nonconcurred with amendments" on HB2192, which meant that a Conference Committee was convened to work out the differences between the Senate and House versions of the bill.
The committee's work is now done, so the bill goes back to the House for another vote. That's where we are now.
Here is a sample letter you can use to contact your legislator:
Just copy and paste the text above, substituting the legislator's name, as well as your name and address. Feel free to personalize the message as you deem appropriate, but please be polite and respectful.
You can find your legislator's email address and phone number from the House Roster and Senate Roster.
If you're not sure who your legislators are, you can use the Find Your Legislator tool.
Post tags: 3-Foot Passing, Dead Red