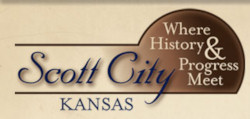 Scott City, Kansas is planning to develop a new community-funded walking and biking trail.
According to The Scott County Record:
A city-wide walking/biking trail of about 5.9 miles was unveiled to the Scott City Council at Monday's meeting.

The proposal, which is being supported by groups and individuals through the Scott Community Foundation, will carry an estimated price tag of nearly $363,000 paid for through private donations.

The city-wide trail will include two packages.

Palmer Park: an estimated 1.4 miles.
The remainder of the city, extending largely east and west along 9th Street. This would cover about 3.85 miles.

The city-wide trail will involve a mix of new, concrete walkways along with identifying areas on public streets that are designated for walking/biking. The overall plan calls for a walking network that will link together "hot spots," such as parks, schools, etc.

The system will, primarily on 9th Street, call for painting an area that extends eight feet from the curb as a walking/biking path. According to Roberts, even though this area will be designated as part of the trail, vehicles can't be prohibited from parking there.

Along the rest of the city-wide trail, the plan is to use existing sidewalks as much as possible. Roberts said there may be some areas where sidewalks can be repaired through the program, or possibly relocated.

The proposal also includes a 2,530 ft. hard-surface trail on the railroad right-of-way between 6th Street and Alice Avenue. The Foundation has not heard from the railroad whether it would consider abandoning this property. Tentative plans include benches and stopping points along the route.
So, the "trail" will be a mixture of new pathways, sidewalks, rail-to-trail, and on-street painted paths. The latter sounds rather odd — it wouldn't be a bike lane, and cars would still be allowed to park on the path, so how's that work, exactly?
According to the Garden City Telegram, "The designation would mark an 8-foot section of the road specifically for walking and riding traffic. 'We're not looking to build a walking trail. We don't want to interrupt any of the normal parking or anything crazy.'"
The trail will be funded, in part, from donations made to honor a local family of four killed in an airplane crash in 2011 near Topeka (Trail for family killed near Topeka advances): "They were an active family and very involved with walking and running. This was one of the things their family wanted to get done."
Regardless of the details, it's great to see trails moving forward in western Kansas!
Post tags: NewsBlog, Scott City