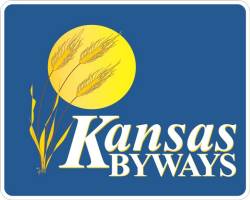 The Kansas Department of Transportation and a consultant team led by CFS Engineers of Topeka and RDG Planning & Design of Omaha are developing a Bicycle and Pedestrian Master Plan for the Kansas Byways System. This plan will include ideas for making each of the state's eleven scenic and historic byways more friendly to people experiencing them on foot and by bicycle.
KDOT has posted a short survey that is being used to gather public input for the plan. The survey asks about bicycling on or along the byways, as well as what types of facilities and amenities you prefer.
I've put together some very basic guides to bicycling the Kansas byways. Most of the existing roadways are at least moderately bicycle-friendly, but proper facilities (wide shoulders and/or trails), as well as signage and other amenities, would go a long way towards improving the experience for people riding bicycles or walking along the routes.