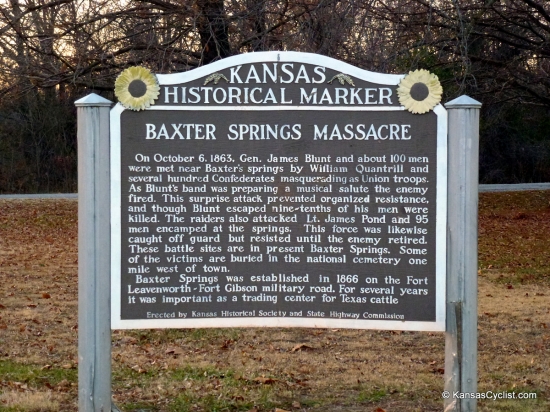 Click on image to view full-sized photo.
Photo Description: This Historical Marker at Old Route 66 Park commemorates the Baxter Springs Massacre:
On October 6, 1863, Gen. James Blunt and about 100 men were met near Baxter's springs by William Quantrill and several hundred Confederates masquerading as Union troops. As Blunt's band was preparing a musical salute the enemy fired. This surprise attack prevented organized resistance, and though Blunt escaped nine-tenths of his men were killed. The raiders also attacked Lt. James Pond and 95 men encamped at the springs. This force was likewise caught off guard but resisted until the enemy retired. These battle sites are in present Baxter Springs. Some of the victims are buried in the national cemetery one mile west of town. Baxter Springs was established in 1866 on the Fort Leavenworth-Fort Gibson military road. For several years it was important as a trading center for Texas cattle.
Photo Date: 11-27-2012
Photo Location: Baxter Springs, KS
GPS Coordinates: 37.067121,-94.726303
Copyright: Copyright 2012 by KansasCyclist.com. All Rights Reserved.
Learn More: Old Route 66 Park
See Also: More Old Route 66 Park Photos

Photo Location Map