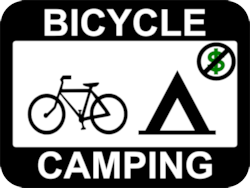 Old Route 66 Park is a roadside park located between Baxter Springs, Kansas and Riverton, Kansas along historic Route 66 in southeast Kansas. The park is maintained by the National Park Service, and is supported by the Land and Water Conservation Fund, which "helps states and communities provide outdoor recreation and open space for all".
There is also a historical marker at the park, which commemorates the Baxter Springs Massacre of 1863, in which nearly a hundred men died in a Civil War battle.
Old Route 66 Park provides shelters, picnic tables, grills, trash cans, and ample grass and shade trees. There is no water, restrooms, or electricity.
Old Route 66 Park is located near both the Frontier Military Historic Byway and the Route 66 Historic Byway
Note: This is (apparently) an unofficial campsite, with no signage that explicitly allows or prohibits camping at this roadside park.