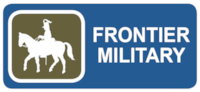 The Frontier Military Historic Byway follows the state's eastern border between Leavenworth and the Oklahoma state line. The route approximates the old Fort Leavenworth-Fort Scott Military Road, which was originally surveyed in 1837, and served as a vital supply line for troops and goods on the edge of the western frontier. During the Civil War years, there were a number of battles fought near this trail, and today there are numerous battlefields and historic sites, as well as pioneer sites, along the route.
Length of route: About 168 miles
Bicycle friendliness of route: Fair to poor. At its northern end, the route passes through the Kansas City metro area. Further south, the byway follows US-69 highway, which is a four-lane divided, limited-access highway for much of its length. Although US-69 often has wide paved shoulders, the highway carries relatively heavy traffic (5,000-25,000 vehicles per day) at high speeds (75 MPH in places), making it a less than pleasant cycling experience. The nearest alternative route is K-7, which generally runs 5-15 miles west of US-69, and though it doesn't often offer paved shoulders, it carried far less traffic.
Communities Along the Frontier Military Historic Byway
Learn more from Kansas Byways and Byways.org.
See also: Kansas Byways Bicycle Guide