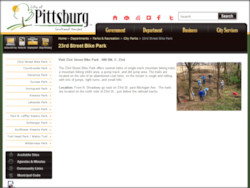 The 23rd Street Bike Park in Pittsburg, Kansas offers several miles of single track mountain biking trails, a mountain biking skills area, a pump track, and dirt jump area.
The trails are located on the site of an abandoned coal mine, so the terrain is rough and rolling, with lots of jumps, tight turns, and small hills. The site was formerly the home of a loose collection of trails, known locally as "The Dumps". In 2009, a local group, which became the Kansas Overkill Racing Club, received approval from the city of Pittsburg to turn the site into a city park. With donated equipment and materials, and many hours of volunteer labor, the group built and now maintains the park and trails.
To get to the trails, go east from North Broadway on 23rd Street, past Michigan Avenue. The trails are located on the north side of 23rd, just before the railroad tracks.