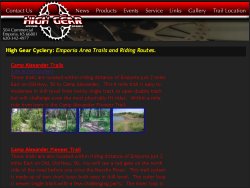 There are three sets of trails near Camp Alexander in Emporia, Kansas:
Camp Alexander Trail - This 4 mile trail is easy to moderate in skill level from twisty single track to open double track but will challenge even the most physically fit rider.

Camp Alexander Pioneer Trail - This trail system is made up of two short loops both easy in skill level. The outer loop is newer single track with a few challenging parts. The inner loop is flat twisty double track that takes you through an old train box car. These are ideal trails for beginners to learn the basic off-road skills. These trails located just 2 miles east of Emporia on Old Hwy. 50. You will see a red gate on the north side of the road before you cross the Neosho River.

College Trails - These trails are located just North of the Emporia State University Campus and I-35. These are Emporia's oldest single track trails and consist of a network of winding trails that run next to the Neosho River. The riding ability is easy to moderate but still fun for an expert rider to rip through.
Trail descriptions courtesy of High Gear Cyclery in Emporia.