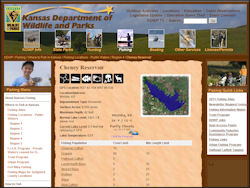 Cheney Reservoir is located 17 miles west of Wichita on 21st Street, and the north end is 12 miles south of Hutchinson. The reservoir consists of about 9,600 surface acres of water, 5,249 acres of wildlife area and 1,913 acres of state park. There are currently three trails at Cheney State Park:
West Side Trail - At a total length of 5 miles, this is the longest trail in the park. The trail begins just west of the park office and ends at the park/wildlife boundary of S. Yoder Road.
Spring Creek Wildlife Observation Trail - Enjoy a walk on the trail to observe wildlife and nature. Part of the 0.75-mile trail is elevated over a wetland and running stream..
Geifer Creek Nature Trail - This 0.13-mile Interpretive Trail is located just south of the Geifer Hill Campground, near the park entrance.
All trails are open to both hiking and biking.