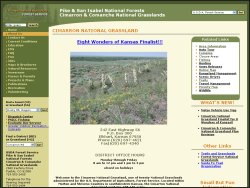 Cimarron National Grassland is located in Morton and Stevens Counties in the southwest corner of Kansas, just north of Elkhart. At 108,175 acres, it is the largest area of public land in the state, and the only land in Kansas administered by the U.S.D.A. Forest Service.
Rock cliffs, cottonwood groves, grassy fields, yucca and sage brush are scattered throughout the land, which is home to wildlife including pronghorn, elk, mule and white-tailed deer, bobwhite and scaled quail, wild turkey, lesser prairie chicken and doves.
Cimarron National Grasslands offers two trails for cyclists:
Santa Fe Companion Trail - This 19-mile trail parallels the Santa Fe National Historic Trail, which served as a primary route during the mid-1800s. The companion trail closely follows the existing trail remnants of the Santa Fe Trail and consists of a grassy trace across the prairie. The terrain varies between primarily flat prairie land, occasional draws, and the relatively gradual incline up to and down from Point of Rocks.

Turkey Trail - This 10.5-mile trail follows a reclaimed two-track primitive road that winds along the Cimarron River corridor, and is relatively flat, but sandy in places where opportunities for birdwatching abound along this wooded area.
Both trails are open for hiking, bicycles, and horseback riding. Campsites are available at the Cimarron Recreation Area; primitive camping is also permitted on the grassland.
For detailed maps and directions to the trailheads, stop by the Cimarron National Grasslands Range Station at 242 East Highway 56 in Elkhart (620-697-4621).