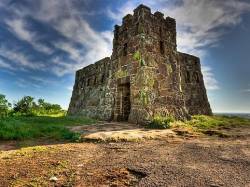 Coronado Heights is a hill northwest of Lindsborg, Kansas. It is alleged to be the place where Francisco Vasquez de Coronado gave up his search for the seven cities of gold and turned around to return to Mexico.
Coronado Heights Park is located just north of McPherson County on the Saline County line. It is the southernmost of the seven low hills which are sometimes referred to as the Spanish Buttes. The view at the top of the hill is spectacular and people on the top can see for miles. In the Spring and Summer there are wildflowers in bloom on the hill.
A 3 mile mountain bicycle trail winds around the hill in a figure 8 loop which is 60% singletrack. Speed increases the difficulty of the trail - most of it can be ridden by beginners but experts will leave smiling as well.
Coronado Heights is home of the annual Coronado's Challenge mountain bike race.