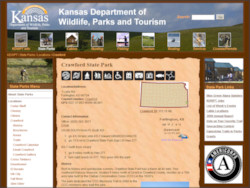 Crawford State Park is a southeast Kansas treasure, located near Farlington in Girard in Crawford County. Located on the edge of the Ozarks, and illustrates the vast variety of landscapes available in Kansas. Redbud trees offer spectacular beauty in spring, and the lush foliage of the surrounding forest is a naturalist's delight. The 500-acre park features a 150-acre lake (also known as "Farlington Lake") with facilities for boating, fishing, camping, and picnicking.
There are four trails within the park, one of which is available for mountain biking. The Drywood Creek Mountain Bike Trail is a very technical but mostly flat trail that is about 7 miles long. It features a mix of fast wooded sections and extremely rocky technical riding with short run-ups as well as a couple stream crossings in most weather. If wet some of the trail is impassable and must be bypassed on the paved road.
The trail is shared with hikers, and modern showers and restrooms are available at the trailhead at the north end of the dam. A one-day vehicle pass costs $5.