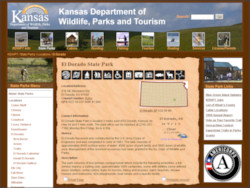 El Dorado State Park is located just east of El Dorado, Kansas, one mile north of Hwy 54. It is the largest state park in Kansas, boasting an 8000-acre lake and 4500 acres of park lands on the edge of the scenic Flint Hills. The park offers a full-service marina, four campground areas with 1100 campsites, picnic shelters, rental cabins, swimming beaches, and equestrian, hiking, and mountain bike trails.
There are four trails available for cyclists:
El Dorodo Linear Trail - A paved multiuse trail constructed by the city of El Dorado, the trail starts from two locations in the city and ends as it crosses the bridge into the Walnut River Campground at the El Dorado Lake and State Park. (see map)

Walnut Ridge Trail - A 3/4-mile hiking/biking trail located across the Walnut River from the Walnut River Campground. The trail takes the visitor on a scenic tour through dense timber and along the Walnut River. Wildlife is abundant with whitetail deer frequenting the area, especially during the spring. The trail also connects directly with the Linear Trail from El Dorado.

Double Black Diamond Mountain Bike Trail - A 2-mile hike/bike trail for those who like a little more of a challenge. Located just across the river from the Walnut River campground and connecting with the Linear Trail, the Double Black Diamond trail is a scenic tour through the uplands of the Flint Hills to the bottomlands of the Walnut River. Along the way, rock outcroppings and steep grade changes can be expected. The trail is narrow, winds through dense timber, and has two water crossings as an additional challenge.

Boulder Bluff Trail - This 17-mile trail follows the shoreline of scenic El Dorado Reservoir through a variety of terrain. The trail begins at the Boulder Bluff horse camping areas, and is primarily intended for equestrian use, though the trail is also open to hiking and biking as well.