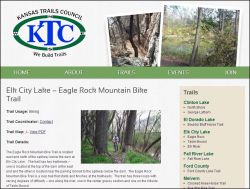 Elk City State Park is located northwest of Independence, Kansas, and features 4,500-acre lake and a 857-acre park. The park features a nationally-recognized trails system that invites visitors to take a closer look at the rich variety of flora and fauna on the site. The Green Thumb Nature Trail is a one-mile loop that begins in the state park campground, and rewards hikers with a panoramic vista of the lake, framed by ash and oak trees. Table Mound Hiking Trail and Post Oak Nature Trail are also park attractions. The Elk River Hiking Trail is a scenic 15-mile route that begins at the west edge of the dam and ends near the U. S. Highway 160 bridge on the Elk River.
Elk City State Park offers two bike trails:
Eagle Rock Mountain Bike Trail - This 4-mile trail passes by large sycamore and oak trees, and the trail features roller-coaster dips, straight and winding climbs, down hills and log jumps with ride-around provided in most places for the less skilled riders. The trail was designed with the beginner mountain biker in mind but also for the experienced mountain biker to excel on. On its path, which The trail begins along the Elk River just north of the reservoir outlet. The wooded portion of the trail soon gives way to a trek through ice age boulders that cover the hillside. Another segment of the trail winds through tall native grasses.

South Squaw Bike Trail - This is a 3.3-mile paved trail through the South Squaw area of the State Park. It has views of the wildlife area, the south side of the lake, and is available for walking or bike riding.