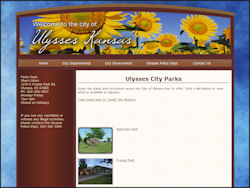 Frazier Park is located in Ulysses, in the southwestern corner of Kansas. The park offers camping facilities, picnic areas, restrooms, baseball fields, a playground, hiking and biking trails, and access to the nearby Bentwood Public Golf Course. The park is located on the southeastern side of Ulysses, one mile south of Highway 160 on Stubbs Road, then east on Frazier Road.
The trail is located in the trees and meadows south of the golf course. The hard-packed dirt trail winds through the trees within the park, with plenty of short hills, logs, and big drops. The trail is rather chaotic as it meanders among the trees, splits, and crosses over itself, but there are several long grassy stretches which lend themselves to a fast, hard ride.
In all, there are about 3 or 4 miles of trails open for hiking and biking.