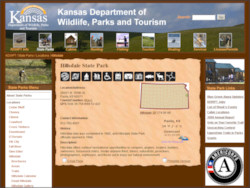 Hillsdale Lake offers over 4500 surface acres of water and over 8000 acres of public land surrounding the lake. This Kansas State Park, located near the town of Hillsdale in eastern Kansas, offers a wide variety of outdoor recreational opportunities including fishing, boating, camping, hunting, hiking, equestrian trails, and much more.
There are two trails at the lake open for mountain bikes:
ADA Hike/Bike Trail - This 5-mile trail winds through the Jayhawk and Russel Crites areas at the southwest corner of the lake.

Saddle Ridge Trails - This is primarily an equestrian trail, but is also open for hiking and biking. It starts at the Saddle Ridge Horse Camp area on the eastern shores of the lake. There are four trail loops, covering about 49 miles, that meander through heavy woods, open grassy meadows, and along bluffs overlooking the lake. Most of the trails are dirt singletrack, and difficulty ranges from moderate to difficult.
Vehicle permits are required for entry to the state park, though the Saddle Ridge Trails may be accessed from free parking areas at the northeast corner of the lake.