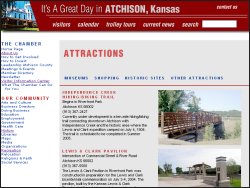 Independence Creek Trail is a 2.5-mile hiking and biking trail that connects the Lewis and Clark Historic Site at Independence Creek with River Road, near Atchison, Kansas. The Lewis and Clark Historic Site commemorates the location where the Lewis and Clark expedition camped on July 4, 1804.
The site features a re-creation of a Kanza Indian Lodge to interpret the first capital of the Kanza Nation, and also contains numerous interpretive elements that help relate the site's significance. Other features include an interpretive sign and a geodetic marker. The trail also passes along the western edge of the 2,112-acre Benedictine Bottoms Wildlife Area located in the flood plain of the Missouri River.
Also be sure to check out Riverfront Park in nearby Atchison, which is located next to the Missouri River and includes an overlook for sightseeing, as well as the Lewis & Clark Pavilion, which was constructed in preparation for the Lewis and Clark bicentennial commemoration in 2004. The pavilion contains an interactive touchscreen monitor and interpretive panels with information on the Lewis & Clark expedition, the Missouri River and the Kanza Nation. Riverfront Park also contains a short paved trail.