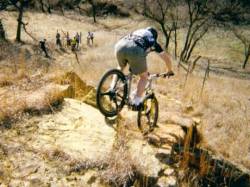 Kanopolis State Park was Kansas' first state park, established in 1955 in the scenic Smoky Hills region of Kansas just southwest of Salina. Kanopolis Lake offers nearly 25 miles of trails open to hikers, mountain bikers, and horseback riders. All trails start in the Kanopolis State Park; with each marked for your enjoyment:
The Rockin' K trails take visitors to and from the Rockin' K campgrounds.
The Horsethief trails loop through canyons and trees.
Farther north and west, the Prairie Trails traverse high prairie and Red Rock Canyon.
The Alum Creek trails take visitors across vast prairie and through many water crossings.
The trails have a variety of terrain and difficulty levels, and loop through canyons, trees, high prairie and Red Rock Canyon, a sandstone canyon that is breathtaking. Northern loops encompass the Alum Creek trails which offer views of vast prairie and many water crossings.
The Prairie trails and Alum Creek trails are closed to horseback riding and mountain bikes from Nov. 1 through Jan. 31 as a safety precaution during hunting season.