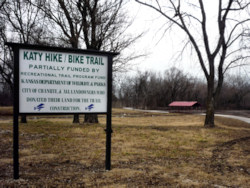 The Katy Hike/Bike Trail is a short paved multi-use pathway located in Chanute, Kansas. It follows a portion of the route that the old Missouri-Kansas-Texas Railroad (the "Katy") took through Chanute.
There is a trailhead located near Katy Park, just north of Main Street. The trail passes beneath K-39 highway, and runs north through a covered bridge to another trailhead off Evergreen Avenue. The path then crosses Evergreen and continues on to Highland Avenue, where it becomes on on-street bike route, until it reaches Pine Street, where it becomes a paved pathway again, and passes beneath K-39 highway and on to the historic Santa Fe Depot and the Ocatave Chanute glider on Main Street in downtown Chanute. There is additional parking available at the depot.
In total, the path is about 1.75 miles in length, including the on-street portion of the route.