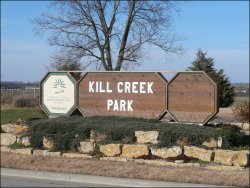 Kill Creek Park is an 880-acre park located in western Johnson County between between De Soto and Olathe. It offers 17 miles of trails through remnant prairie and lowland riparian woodland, including hiking, mountain bike and equestrian trails and an asphalt multi-use trail. In addition to the trails, the park also offers picnic shelters and a 28-acre lake with a swimming beach and marina.
There are around 4 miles of mountain bike trails, with an beginner/intermediate loop that is fast and flowing with moderately-challenging rocky sections, and an advanced loop with trail obstacles such as skinnies, rock gaps, stair steps, log hops and rock gardens. Most of the obstacles are difficult but low risk.
During wet conditions, the mountain bike trails may be closed to prevent trail damage. If there has been recent rain, please call the Johnson County Park and Recreation District's existing Park Info line, 913-312-8833, to learn about possible trail closures.
The Kill Creek trails were designed and built under the direction of the Earth Riders Trails Association in conjunction with the Johnson County Park and Recreation District.