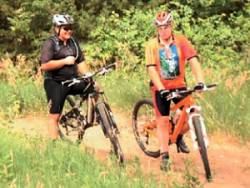 Lake Barton Trails (AKA Barton County Lake) is located about 4 miles north of Great Bend on Highway 281. The "lake" is actually dry for the majority of the year, and there is a 2-mile trail that circles the lake. It's mostly flat singletrack, but there are several short, steep climbs near the dam, and several side trails that offer more technical sections.
The trail loops through woods for most of the route, except for a few boulders, a few log obstacles, and the broken-up concrete of the dam.
For additional details on the trail, contact the folks at Golden Belt Bicycle Company, who built and maintain the trail.