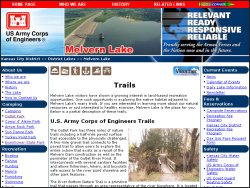 Melvern Lake is situated on the eastern edge of Kansas' Flint Hills region and covers approximately 7,000 acres of water and 18,000 acres of land open for public use. Melvern Lake offers a huge variety of outdoor recreation activities, including fishing, boating, camping, hunting, and much more. There are six parks located at Melvern Lake - five run by the Corps of Engineers, and one by the Kansas Department of Wildlife and Parks.
Melvern Lake features a number of cycling trails:
Five Star Bike Trail - Also known as "Ike's Trail", this 5-mile trail is located in Eisenhower State Park on the northeast side of Melvern Lake. The trail wanders through trees and prairie and dips into several rocky ravines.

Crooked Knee Horse Trail - This 20-mile trail takes you through the scenic undeveloped native terrain of the Flint Hills, starting at the west portion of the campground in Eisenhower State Park.

Outlet Park - Three miles of nature trails including a half-mile paved surface trail and a two-mile gravel trail that allows users to explore the entire oxbow that exists as a result of the Melvern Dam construction as well as the perimeter of the Outlet River Pond.

Tallgrass Heritage Trail - Located on the south side of Melvern Lake, this 4-mile trail extends from Arrow Rock Park to Coeur d' Alene Park. Hikers and mountain bike riders will enjoy the mowed grass path with several challenging hills as it passes through woodland and grassland ecosystems.
In all, there are about 17 miles of trails open for hiking, backpacking and biking.