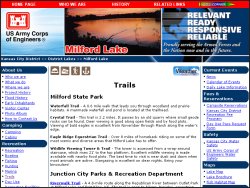 Milford Lake is the largest reservoir in Kansas, with 15,700 acres of water, 163 miles of shoreline, and over 33,000 acres of land. The lake offers eight parks with diverse recreational opportunities, including fishing, boating, swimming, camping, hunting, hiking, wildlife watching, and much more. Milford Lake is located just west of Manhattan, Kansas, near Junction City and Fort Riley.
Milford Lake features a number of cycling trails:
Crystal Trail - This 2.2-mile trail in Milford State Park passes by an old quarry where small geode rocks can be found. Deer viewing is good along open fields and by food plots. Viewing of bald eagles is excellent from November through March along the water's edge.

Waterfall Pond Trail - A 0.6 mile trail that leads you through woodland and prairie habitats. A manmade waterfall and pond is located at the trailhead in Milford State Park.

Pipeline Trail - 0.5-mile trail that links campgrounds together and acts as a shortcut between areas in Milford State Park.

Eagle Ridge Trail - An 8-mile trail in Milford State Park takes you on some of the most scenic and diverse areas that Milford Lake has to offer.

Riverwalk Trail - A 4.8-mile crushed limestone trail that connects Outlet Park just below Milford Dam and Fort Riley's Trooper Drive.

Old River Bluff Trail - A 1.5-mile trail that connects Milford State Parks's Eagle Ridge Trail with Junction City's Riverwalk Trail.

Riverwalk Trail - A 12-mile multi-use linear trail is located on the banks of the Republican River.

School Creek Park - Although this 287-acre area is intended primarily for off-road vehicles, mountain bikes are welcome as well. Riders will find a wealth of trails criss-crossing the park, with many challenging ups and downs, wooded and brushy corridors, and some lakeshore riding. There are at least five miles of singletrack, ranging from easy to difficult.
In all, there are over 35 miles of trails open for hiking, backpacking and biking.