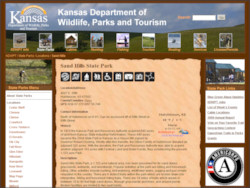 Sand Hills State Park is a 1,123-acre natural area that provides a panorama of sand dunes, prairie, woodlands and wetlands. It features 14 miles of hiking, biking, and horse trails that weave in between 10 to 40 feet high sand dunes, through grasslands and trees, and around ponds.
Trails available for cycling include:
Bluestem Trail - 1.2 miles
Cottonwood Trail - 0.5 miles
Dune Trail - 2.2 miles
Pond Trail - 1.5 miles
Prairie Trail - 1.9 miles
Rolling Hills Trail - 3.8 miles
Tallgrass Trail - 2.2 miles
Woodland Trail - 2.2 miles
Sand Hills State Park is located on K-61 highway north of Hutchinson. The trails are accessed via two parking lots on 69th Street and one on 56th Street. Trail user fees may be paid at the self-pay stations located at each lot.