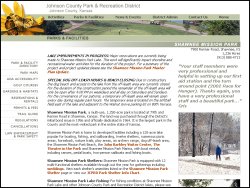 Shawnee Mission Park is a 1250-acre park located in Shawnee, Kansas. It is one of the most-visited park in the entire state of Kansas, and offers a 120-acre lake with a marina and boat rentals, numerous shelters and picnic areas, hiking, horseback, and mountain bike trails, an archery range, a dog off-leash area, and much more.
There are currently about five miles of mountain bike trail at Shawnee Mission Park, with proposals to triple the length in the future. The trails run through the woods at the northwest corner of the park, and consist of sections of smooth, fast singletrack and technical sections with lots of climbs and descents, as well as rocks and logs. There are both beginner and advanced trails to choose from.
During wet conditions, the mountain bike trails may be closed to prevent trail damage. If there has been recent rain, please call the Johnson County Park and Recreation District's existing Park Info line, 913-312-8833, to learn about possible trail closures.
In addition to the mountain bike trails, there is also several miles of paved multi-use trails, which connect to the Mill Creek Streamway Trail just west of the park.
The roads within the park are also popular training grounds for local cyclists, with some big climbs and tight corners making it one of the most challenging routes in Johnson County.