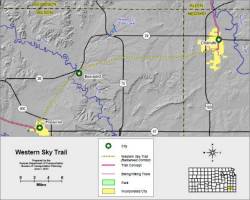 The Western Sky Trail is being developed between Chanute and Fredonia on the right-of-way of the former South Kansas and Oklahoma Railroad. It will be about 19 miles in length, and consist of a crushed limestone surface.
The Western Sky Trail is being built by local groups and individuals in Chanute and Fredonia. No scheduled opening date has been announced yet.
For more information, please contact the Sunflower Rail-Trails Conservancy.
Web Site: No web site at this time.
Location: Chanute, KS