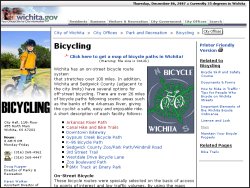 The city of Wichita has over 26 miles of bicycle paths following scenic areas such as the banks of the Arkansas River, giving the cyclist a safe, easy and enjoyable ride. There are a number of bike paths to choose from in Wichita:
Arkansas River Path: 14 miles - The longest and most popular bicycle path in Wichita, located along the banks of the Big Arkansas River from 21st Street North to Galena Street on the south.
Canal Hike and Bike Trails: 6 miles - Runs underneath and alongside the I-135 Canal Route, starting at 17th Street North and ending at Stafford Street.
Downtown Bikeway: 1 mile - Connects the Arkansas River Path with the central business district.
Gypsum Creek Bicycle Path: 6.5 miles - Follows the Gypsum Creek from Towne East Square at Douglas, south along Armour Drive to Turnpike Drive.
K-96 Bicycle Path: 8 miles - Follows the K-96 bypass from the intersection of 127th Street East and Central Avenue to Hillside Avenue.
Sedgwick County Zoo/Park Path/Windmill Road: 9 miles - A path system that encompasses these two attractions and runs throughout the park.
3rd Street Trail: 1 mile - Runs from I-135 to Hillside on 3rd Street, connecting to the Canal Hike and Bike Trails.
Westdale Drive Bicycle Lane: 1 mile - A bike lane that runs from Zoo Boulevard to 21st Street North, connecting to the Arkansas River Bicycle Path.
Zoo Boulevard Path: 1.5 mile - Links the Arkansas River Bicycle Path near downtown to the west and northwest area of the community.
See also: Wichita Bicycle Paths Map (PDF)