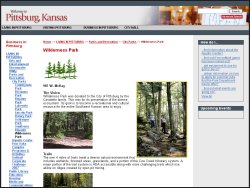 Wilderness Park is located in Pittsburg, Kansas, and is a city park that features beautiful wooded terrain and several "coal pit" ponds. The trailhead is located 1/4 mile west of highway 69 on McKay Street at the north end of the city.
There are over 4 miles of trails in Wilderness Park, consisting of both gravel doubletrack fire roads and twisty dirt singletrack. The trails carry you through a diverse natural environment that includes wetlands, forested areas, grasslands, and a portion of the Cow Creek tributary system.
The gravel trails feature lots of small hills running through a canopy of trees, and makes for a fast workout. The singletrack begins in the southern-most part of the property, runs through dense woodland ridges, and consists of lots of very steep hills, big rocks, tree roots, and some exhilaratingly sheer drop-offs.