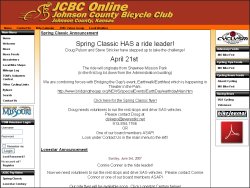 Johnson County Bicycle Club (JCBC) serves recreational cyclists in Johnson County, the Kansas City Metro area, and surrounding counties. The JCBC promotes bicycling safety, advocacy, and fellowship. The club offers a monthly newsletter and three annual pay rides:
The JCBC also maintains a calendar of local and club rides.
In 2012, the Johnson County Bicycle Club merged with the Kansas City Bicycle Club to form a new organization called the Kansas City Metro Bicycle Club, which serves the bicycling community in the entire Kansas City metropolitan area, including both Kansas and Missouri.
Sorry, but this listing is not currently active;
info shown is the last known data...