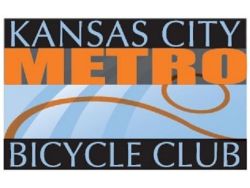 The Kansas City Metro Bicycle Club (KCMBC) is a non-profit organization that serves the bicycling community in the Kansas City metropolitan area. Their vision is to create a better community through bicycling.
The Kansas City Metro Bicycle Club was created in 2012 by combining the Johnson County Bicycle Club and the Kansas City Bicycle Club. KCMBC serves both sides of the state line. As of 2016, the club is now known as Cycling Kansas City.
The club offers a full schedule of weekly and monthly local rides throughout the year (see their ride calendar), as well as a number of annual events including the President's Ride, the Spring Classic, the Cider Mill Century, the City of Fountains Tour, and the Summer Breeze.
Sorry, but this listing is not currently active;
info shown is the last known data...