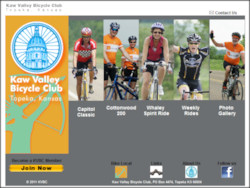 Founded in 1971, the Kaw Valley Bicycle Club (KVBC) is dedicated to safe and fun bicycling in and around Topeka, Kansas. The KVBC is both a recreational and advocacy organization, and is an affiliate member of the League of American Bicyclists (LAB).
The KVBC currently hosts three large, organized rides annually, including the Bruce Whaley Spirit Ride (for the Leukemia Foundation), the Capitol Classic, and the Cottonwood 200.
In addition, the KVBC also strongly encourages participation in the regional MS150 ride.