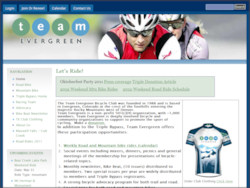 The Team Evergreen Bicycle Club is based in Evergreen, Colorado at the crest of the foothills entering the majestic Rocky Mountains west of Denver. The club promotes cycling through their schedule of group rides and special events.
The club holds weekly road rides from March through October. Both road and mountain bike rides are popular and attract a variety of skill levels. Rides typically break apart into several groups based on ability, but depending on length gather at one or two predetermined spots to regroup. Everyone is welcome. Lunch at a nearby restaurant, while certainly not required, is a traditional follow-up to the rides.
The Triple Bypass is the club's premier event. Over 120 miles and more than 10,000 feet of elevation gain over three major mountain passes make this an event only for the fittest cyclists. The ride began in 1988 with just a handful of Evergreen cyclists. This is one of the nation's top single-day recreational cycling events, and raises funds for a number of beneficiaries.