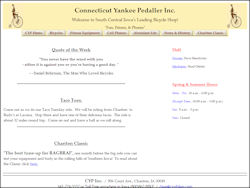 Connecticut Yankee Pedaller is located in Chariton, Iowa, and has been serving the Lucas County, Iowa area since 1979, and now offers bicycles, skateboards, and fitness equipment.
Connecticut Yankee Pedaller carries all types of bicycles, including BMX, Comfort, Folding, Hybrid, Mountain, Recumbent, and Road bikes. Brands in stock include Dahon, Diamondback, Gary Fisher, El Gordo, Haro, Kona, LeMond, MirraCo, Organic Engines, Raleigh, RANS, Sun, Trek, and Wizwheelz. They also offer a full line of skateboards, as well as fitness equipment such as exercise bikes, ellipticals, rowing machines, and treadmills.
They also host the annual Chariton Classic each June.
Connecticut Yankee Pedaller
908 Court Ave.
Chariton, IA 50049
641-774-5557


Map This Location…