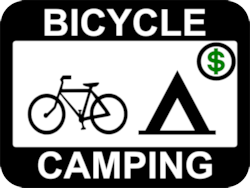 Riverside Park is a community park located in Baxter Springs, Kansas, along the banks of the Spring River, at the eastern edge of the city, just south of K-166 highway. Baxter Springs, of course, was immortalized in James McMurtry's Choctaw Bingo:
That's one hell raisin' town way up in Southeastern Kansas; Got a biker bar next to the lingerie store; That's got them Rolling Stones lips up there in bright pink neon; And they're right down town where everyone can see 'em; And they burn all night, you know they burn all night, you know they burn all night
Riverside Park offers both RV and tent camping, and amenities include restrooms, picnic tables, shelters, and grills. "Please watch for the signs in the park as there is no tent camping allowed in the RV section."
The cost for primitive tent camping is $5 per day. "Campers need to contact the Baxter Springs Police Department for a permit to camp."
Riverside Park is located near both the Frontier Military Historic Byway and the Route 66 Historic Byway
Contact: Police Department, 121 W 11th, Baxter Springs, KS 66713, 620-856-2112.