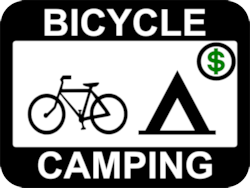 Cross Timbers State Park is located near Toronto, Kansas, in the gently-rolling hills of the Verdigris River Valley. The park has 1,075 acres on the 2,800-acre Toronto Reservoir. It offers visitors "an opportunity to enjoy wildlife in their natural setting and to see some of the most diverse flora and fauna found in Kansas".
Cross Timbers State Park offers over 120 primitive camping sites, with nearby toilet and shower facilities. Campsite cost starts at $8/night during the peak season (slightly less off-peak).
In addition to camping, the park has the Cross Timbers State Park Trails, with 17 miles of mountain bike trails through woodlands and prairies, offering spectacular scenery and breathtaking views of Toronto Lake.
Contact: 620-637-2213. Brochure