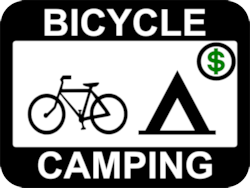 Lake Fort Scott is located near Fort Scott, Kansas, and is a 352-acre structure "nestled in a lush, heavily wooded, rural setting teaming with wildlife. Lakeside campsite areas, shelter houses and picnic areas are available to residents and visitors alike."
Cost: $5.00 per night for primitive tent camping. Self-pay via envelopes located on-site.
Fort Scott is also home to the nearby Gunn Park Trails, which offer over 4+ miles of wilderness trail through a mostly wooded area, including about 3/4 mile that runs right beside the Marmaton River. Another nearby camping option is Gunn Park.
Contact: Diane Clay, City Clerk, dclay@fscity.org, 620-223-0550.