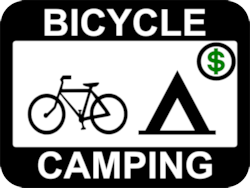 Gunn Park is located near Fort Scott, Kansas, and is a 50-acre structure "155 acres of beautifully wooded terrain with many recreational activities for the entire family. There are 14 camping sites with electricity and water."
Cost: $4.00 per night for tent camping, $8 per night for campsites with electric and water hookups. Pay via self-pay envelopes and drop box in the park.
Gunn Park is also home to the Gunn Park Trails, which offer over 4 miles of wilderness trail through a mostly wooded area, including about 3/4 mile that runs right beside the Marmaton River. Another nearby camping option is Fort Scott Lake.
Contact: Diane Clay, City Clerk, dclay@fscity.org, 620-223-0550.