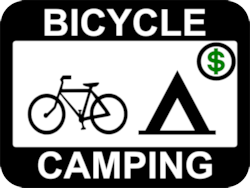 Crystal Lake is located on the southern edge of Garnett, Kansas, along the Prairie Spirit Trail. Wilderness (tent) camping is permitted on the south side of this lake in a designated area. The campground is open year-round.
Cost: $9 per night for "wilderness" (tent) camping. Camping is on a first come, first serve basis with a self-pay permit stations located in the park. Camping permits may also be purchased at the Garnett Police Dispatch Center, 131 W 5th Ave.
Garnett is located at the midway point along of the Prairie Spirit Trail State Park, a rails-to-trail that runs north-south for about 51 miles, from Ottawa in the north to Iola in the south.
Contact: info@garnettks.net, 785-448-5496.