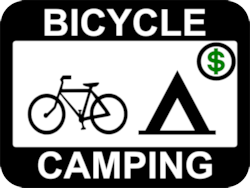 Rutlader Outpost is located near Louisburg, Kansas, along the Frontier Military Scenic Byway:
Rutlader Outpost is depicted as an Ole West Border Town on the border of Missouri and Kansas. Between the years of 1838 and 1845 a military road was constructed through the Indian Territory to connect Fort Leavenworth, Fort Scott (Kansas) Fort Gibson (Oklahoma). This was done to protect the western border of the United States which was the Missouri Kansas line. The old route has been replaced by Highway 69, and considered the Frontier Military Scenic Byway.
Though Rutlader Outpost is primarily an RV campground, they do offer some tent camping facilities. Amenities include showers, laundry, restrooms, water, and free Wi-Fi.
Cost for tent camping: $20/day
Nearby Louisburg Middle Creek State Fishing Lake offers free primitive camping, with no electricity or water.
Rutlader Outpost is located at 33565 Metcalf Rd, Louisburg, KS 66053. Contact: Brenda Harris, brendah2@rutladeroutpost.com, 913-377-2722.