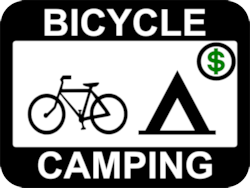 Scott State Park is located near Scott City, Kansas, about 13 miles due north alongUS-83 highway. Many people find Scott State Park to be a "startling oasis" on the high plains, with "natural springs, deep wooded canyons, and craggy bluffs". The 100-acre, springfed lake was built in the 1930s, and "groves of hackberry, ash, elm, willow, walnut, and cedar trees complement its banks, and several majestic cottonwoods as old as the lake also accent the area."
Scott State Park offers 55 RV campsites, as well as 175 primitive sites, most with nearby shower and restroom facilities. Campsite costs start at $8/night during peak season.
Also located within the park is the Scott State Park Trail, 7-mile trail that circles the Scott State Fishing Lake, popular with cyclists, hikers, and equestrians.
Contact: 620-872-2061. Brochure