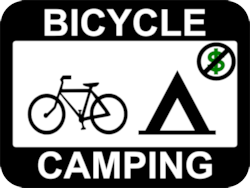 Woodridge Park is located near Lawrence, Kansas, on the western shores of Clinton Lake. It is managed by the Corps of Engineers, and here is their description of the facilities:
Woodridge Park is a primitive camping area for tents only. The park is free of charge and is open year-round; however, during the winter months (November 1 through March 15), the gate to Woodridge Park is closed. Tent camping and hiking are still allowed, but vehicles must be parked outside the gate and visitors must hike in. Drinking water and a vault toilet are still provided year-round.

Visitors can camp in the large mowed area near the entrance to the park or along the 4.5-mile trail. There are numerous small clearings along the trail that make excellent camping spots, but the Corps of Engineers asks that people use only pre-existing campfire rings. The trail is quite scenic as it travels through woods, meadows and hay fields, and meets up with the lakeshore intermittently.
The Corps of Engineers manages five additional campgrounds at Clinton Lake. All of these are pay sites, and intended primarily for RVs. Prices range from $12 to $18 per night.
In addition, the Kansas Department of Wildlife, Parks and Tourism manages Clinton State Park, which provides over 400 campsites. There are some primitive sites, but most are for RVs. All are pay sites.
Contact: Operations Manager, Clinton@usace.army.mil, 785-843-7665. Lake Map