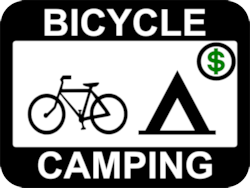 Clinton State Park is located near Lawrence, Kansas. Clinton Lake and its surrounding land over an area of over 35 square miles, managed by the U.S. Army Corps of Engineers. Clinton State Park is managed by the Kansas Department of Wildlife, Parks and Tourism, and provides numerous outdoor recreation opportunities. It is located along the north shore of the lake.
Clinton State Park offers 220 primitive camping sites, with nearby shower and toilet facilities. Fires are allowed only in designated fire rings. Campsite cost starts at $8/night.
Clinton Lake is also home to the Clinton Lake Trails, with a 25-mile singletrack mountain bike trail.
In addition to the campsites available at Clinton State Park, the Corps of Engineers manages Woodridge Park on the western shores of Clinton Lake, which is a free primitive camping area for tents only.
Contact: 785-842-8562. Brochure