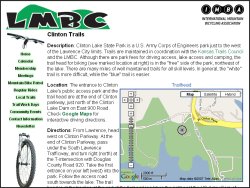 Clinton State Park is located on the northeast shore of Clinton Reservoir, just east of Lawrence. The park features campgrounds, a marina, a cross-country ski trail, a nature trail, a swimming beach, two 9-hole disc golf courses, as well as one of the longest and most popular mountain bike trails in Kansas.
The "North Shore Trail", as it's officially known, is a 25-mile trail that begins in the Corps of Engineers Park near the Clinton Lake Overlook on the northeast side of the lake. From the east trailhead, the trails meander westward along the shoreline and ravines throughout the park. The trails can also be accessed from many trailheads located within Clinton State Park.
The trails are single track, dirt trails exhibiting rocks, tree roots, creek crossings, rolling hills and mile markers. The 8.4 mile Blue Trail is considered easy to moderate difficulty and the 12.8 mile White Trail is considered moderate to challenging. The Blue Trail is closer to the shoreline and the White Trail wanders up the various ravines away from the lake. The 1.25 mile Shoreline Trail, blazed in red, is located below the Blue Trail on the south side of Campground 1. The Shoreline Trail can be accessed from the Blue trail using 5 connector trails. The North Shore Trails are blazed with Blue, White or Red and connecting trails are blazed with the two colors of the trails to which they connect.
The Clinton Lake Trails are maintained by the Lawrence Mountain Bike Club and the Kansas Trails Council.