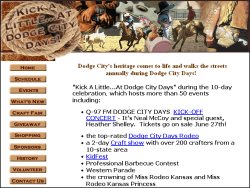 Dodge City Days is an annual celebration of Dodge City's frontier heritage. It takes place over the course of 10 days, and features concerts, a top-rated rodeo, a parade, a barbecue contest, a craft fair, and many more exciting activities.
The Dodge City Days "Saddle Up" Bike Ride takes place on the first Saturday of the festival, and features a choice of routes from 5 to 45 miles on paved roads. The ride starts in the parking lot south of the Sheridan Activity Center, and heads towards the north and east to Ford County Lake, where drinks and snacks are provided. The route then returns to the start in Dodge City.
Mountain bike riders can also participate in a ride around the trail at Ford County Lake during the same weekend.
Event Info:
Date
Ride
08-01-2015

Dodge City Days Bike Ride

-

Enjoy up to 45 miles of riding as part of the annual Dodge City Days celebration, and stay for the parade, rodeo, and barbecue contest!