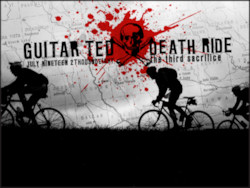 The Guitar Ted Death Ride Invitational is an annual gravel grinder produced by Mark Stevenson of Guitar Ted Productions. Here's what "Guitar Ted" has to say about the ride:
Why: Because I like to go on long gravel rides. Maybe you do too? If so, consider yourself invited. The point for me is to experience the terrain, the suffering, and the camaraderie of riding with any like-minded folk that show up. Where: County gravel roads and maybe a "B" level maintenance road or two. A specific route will be posted after I verify the existence of the roads. Some pavement will be experienced through pass through towns. The ride is typically done on rolling terrain in a "no rider left behind", group ride style. Despite the pretentious name, anyone that wants to come out and ride this event is welcomed, and there is no rider event fee. This is a fully self-supported ride where everyone is responsible for themselves.
The ride location varies from year to year, but is usually in northeast Iowa somewhere...
Event Info:
Date
Ride
07-27-2019

Guitar Ted Death Ride Invitational

-

An annual gravel grinder that takes place in varying locales in northeast Iowa.