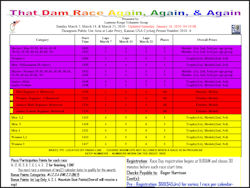 The Dam Series takes place each March at Thompson Park, Lake Perry, Kansas. This series provides early-season road race training on a fun and challenging course.
Riders can race in various categories, and may attempt individual races or the entire series. Racers can win awards for the series. In addition, the series rider, in each category, who accumulates the most Mountain Goat Points will also receive a special award.
The Dam Series is organized by Lanterne Rouge Kansas.
For 2010, the Dam Series takes place March 7, March 14, and March 21.
Sorry, but this listing is not currently active;
info shown is the last known data...