The Flint Hills National Scenic Byway winds through the heart of the Flint Hills, the nation's largest remaining tallgrass prairie.
The route, on K-177 Highway, extends from Cassoday in the south to Council Grove in the north, running through the historic towns of Cottonwood Falls and Strong City along the way, and passing by the popular Tallgrass Prairie National Preserve, with its impressive limestone mansion.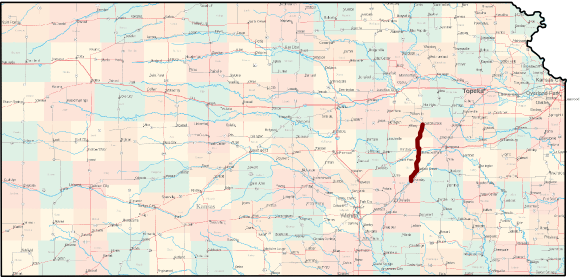 Length of route: About 48 miles
Bicycle friendliness of route: Moderate. K-177 does not have paved shoulders, but traffic is generally light (less than 1000 vehicles per day).
Suggested loop: None. The Flint Hills are largely open rangeland, and there are relatively few paved roads, so there is no easy loop. The best option is to ride back down the byway; you're sure to see things you didn't notice coming from the other direction.
Communities Along the Flint Hills National Scenic Byway
Learn more from Kansas Byways and Byways.org.
See also: Kansas Byways Bicycle Guide