The Glacial Hills Scenic Byway runs north from Leavenworth to the Nebraska state line on K-7 Highway, paralleling the Missouri River and passing through an area of steep hills carved out by glaciers millions of years ago. This route is also part of the fabled Lewis and Clark Trail, which follows the footsteps of explorers Meriwether Lewis and William Clark on their Journey of Discovery. Atchison was the birthplace of Amelia Earhart and is also home to the impressive St. Benedict's Abbey and Benedictine College.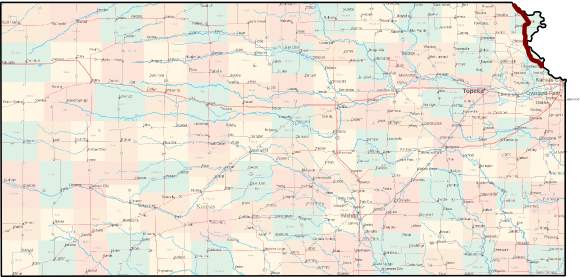 Length of route: About 63 miles
Bicycle friendliness of route: Moderate. K-7 does not have paved shoulders for most of its length, but traffic is generally manageable (5000 vehicles per day near Leavenworth, but less than 1000 vehicles per day further north).
Suggested loop: Continue north on K-7 to Rulo, Nebraska, then take US-159 west to Falls City, then US-73 south through Hiawatha and Horton, then back to Atchison and Leavenworth on K-7. Unfortunately, while US-73 has a narrow shoulder much of the way, traffic ranges from 2000-4000 vehicles per day, increasing as you ride south. Length of loop: about 155 miles total.
Communities Along the Glacial Hills Scenic Byway
Learn more from Kansas Byways and Byways.org.
See also: Kansas Byways Bicycle Guide