Although the Pony Express was in operation for less than two years, it left an indelible imprint on American history and self-image. Started in 1860, the trail began at St. Joseph, Missouri, crossed the Missouri River, then rn westward for about 120 miles to connect with the Oregon Trail heading north and west.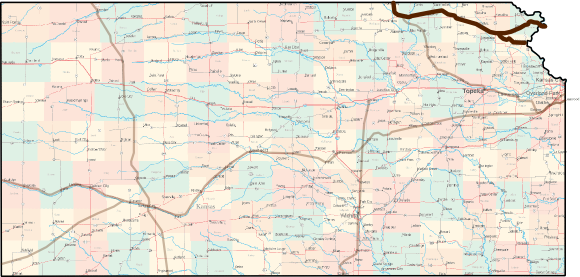 There is currently no "official" Pony Express Trail Bicycle Route in Kansas, but you can follow the approximate route by taking US-36 west from Wathena to Troy, then K-20 through Horton, US-75 back north to Seneca, US-36 west through Marysville, then K-234 north to Nebraska.
The Pony Express Trail has been designated a National Historic Trail, and the National Park Service provides an excellent web site that provides an Auto Tour Route Interpretive Guide with local trail history and driving directions to suggested points of interest in Kansas (most of their directions can work for bikes as well).
Communities Along the Pony Express Trail in Kansas
About the Pony Express Trail
More than 1,800 miles in 10 days! From St. Joseph, Missouri, to Sacramento, California the Pony Express could deliver a letter more quickly than ever before.

In operation for only 18 months between April 1860 and October 1861, the Pony Express nevertheless has become synonymous with the Old West. In the era before electronic communication, the Pony Express was the thread that tied East to West.

Most of the original trail has been obliterated either by time or human activities. Along many segments, the trail's actual route and exact length are matters of conjecture. In the western states, the majority of the trail has been converted, over the years, to double track dirt roads. Short pristine segments, believed to be traces of the original trail, can be seen only in Utah and California. However, approximately 120 historic sites may eventually be available to the public, including 50 existing Pony Express stations or station ruins.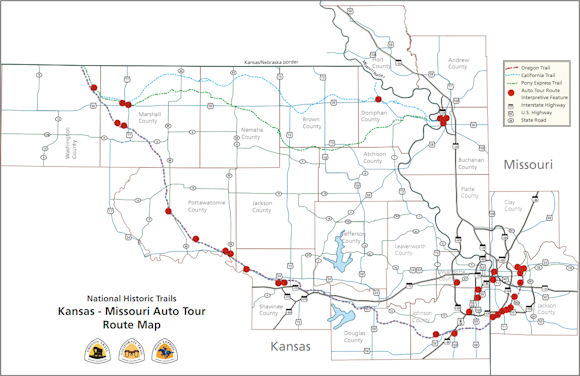 Learn more about the Pony Express Trail