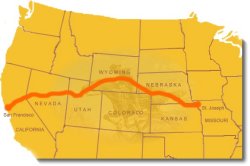 The Pony Express Trail route was once used to carry the nation's mail from St. Joseph, Missouri, to Sacramento, California in the days before the telegraph. Using the trail, men and horses could cover the entire 1,800-mile route in just 10 days.
Now the historic trail is being used for another type of incredible journey — a bicycle ride from Sacramento to St. Joseph.
Spencer Klaassen, a 43-year-old pharmacist from St. Jo­seph, began riding on August 24th and expects to reach St. Joseph in time for the start of the Tour of Missouri on September 8th, a total of 14 days. Unlike the original Pony Express mail delivery, which used a relay system of horses, Klaassen will ride the entire route himself, unsupported.
The route, which Spencer developed three years ago, is sanctioned by Randonneurs USA, and is believed to be the longest permanent route recognized by the organization.
In addition to California and Missouri, the Pony Express route also passes through Nevada, Utah, Wyoming, Nebraska, and Kansas.
Spencer, who is riding the route along with Dan Clinkenbeard, of Columbia, Missouri, is maintaining a blog during his ride, as well as publishing pictures of his journey.
Read Spencer Klaassen's Pony Express Journal
View Spencer Klaassen's Photographs